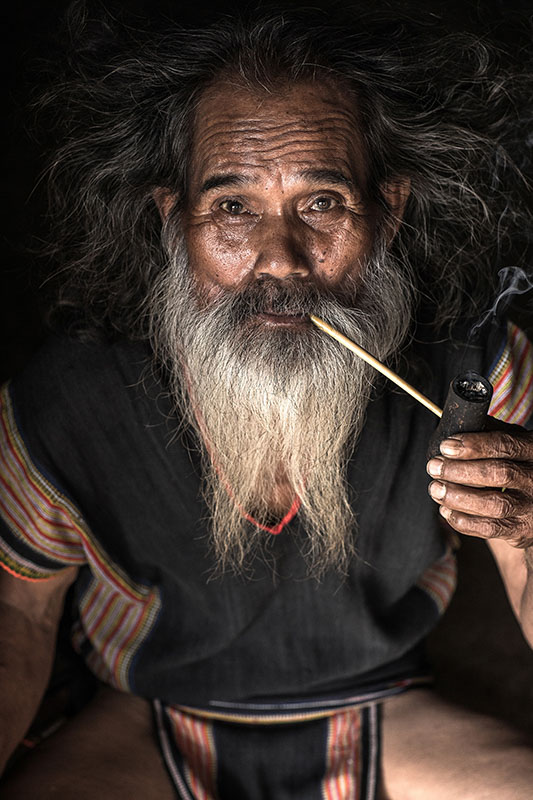 THE XO DANG
I met A Dip, (76 years old) in 2017, around fifty kilometres from Kon Tum in the mountains. He belongs to the To Dra ethnic group which is, according to the experts, a subgroup of the Xo Dang ethnic group, even though, according to the To Dra, their traditions and their dialect are sensibly different. It's the first time that I came across this traditional costume, but A Dip refused to entrust me with it because he's catholic and wears it every Sunday to go to mass. The one in front of you comes from another village and differs from those, richly coloured, that the Xo Dang people now buy from the Ba Na people and sometimes wear during festivals. A Dip is one of my most beautiful encounters of the last two years.
As part of the "Giving back" project, I went back to see him in 2018 to give him a book in which his photo appears and to contribute financially to his everyday life. It's during this new encounter that I discovered his many talents: he's the only artisan in the village who still makes a traditional bamboo basket and the last one to play the traditional instruments of the To Dra people.
Population
169 500 people (Census 2009)
Location
Kontum, Gia Lai...
Arrival
Indigenous to the Central Highlands
THE CAO LAN
THE PU PEO
THE MUONG
THE DAO MAN
THE O DU
THE CO HO
THE MA
THE BAHNAR
THE RO MAM
THE EDE