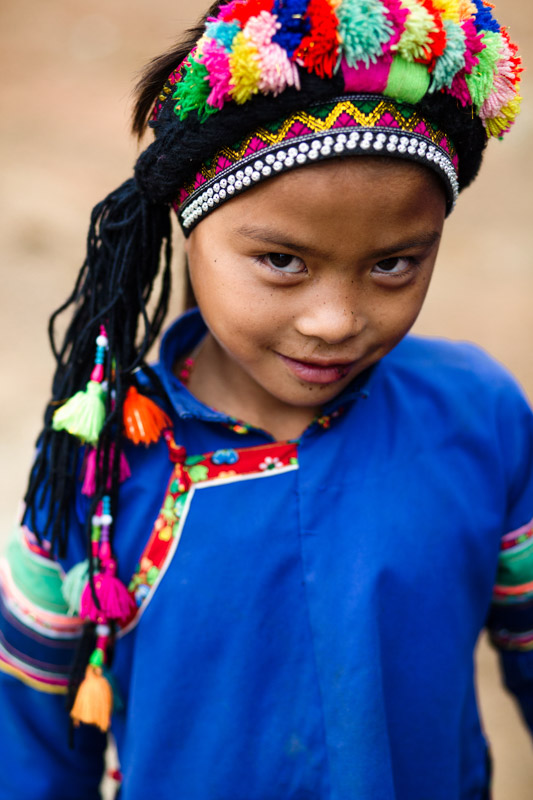 THE PHU LA
A Phù Lá village is usually made up of around 10 – 15 households and the chief and the elders play a very significant role in managing the affairs of the tribe. When I visited this group in a village near Bắc Hà in the north of the country in 2015, I found it to be a challenging undertaking in more ways than one. The road there was treacherous and at some times pretty daunting. Also, Phù Lá people appeared to be a bit distant in their demeanour so it was hard to make a connection.
I tried to find out more about their traditional costumes but soon discovered that sadly, it's no longer made there. While meandering around the village I encountered a curious and friendly mother and daughter who were happy to pose for me. This little girl's smile is so cheeky and yet so wise. I love the intense blue colour and intricate embroidery detail of the hat which can be seen in the glass cabinet of artifacts. Incidentally : I met a sub group of Phù Lá since in the region of Sa Pa, the Xa Pho, whose costume is totally different… to be continued !
Population
5535 people (Census 2009)
Location
Lao Cai, Lai Chau, Ha Giang...
Arrival
From China in the 15th and 18th Century
THE FLOWER HMONG
THE LA HU
THE O DU
THE PU PEO
THE NUNG
THE KHMERS KROM
THE CO HO
THE TA OI
THE HRE
THE CO TU