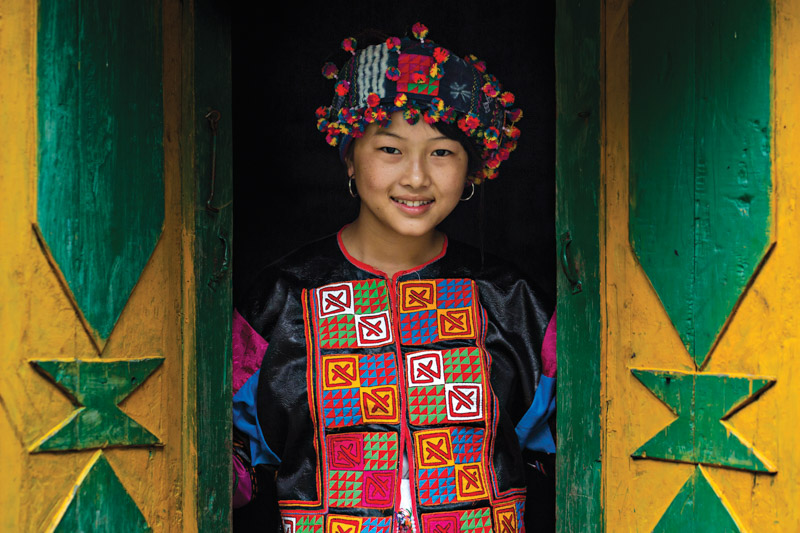 THE LO LO
This ethnic group is divided into 3 subgroups : the Flower, the Red and the Black Lo Lo. The latter get their name from the main color in their traditional clothes, whereas the Flower Lo Lo get it from their very colorful costumes.
My first exploration of the Black Lo Lo (picture below), in 2013, led me to Bao Lac. During this visit I saw many women wearing the traditional costumes. Two years later it was already obvious that fewer were wearing them. This one photo of the tattered costume around old hands and feet represents the old and vanishing culture.
In contrast, the Lo Lo Flower (picture above) still make their traditional costume today. Considered as one of the finest in Vietnam, it is also the most expensive and costs around 1200$. The reason ?  This costume is covered with 4 000 triangles sewn after the appliqué technique and it takes 2 hours to stitch 5 of them ! Make the math…It can take up to a year to manufacture the full costume !
Population
2218 people (Census 2009)
Location
Ha Giang, Cao Bang, Lao Cai
Arrival
Tibet to China to Vietnam
THE BO Y
THE HA NHI
THE THAI
THE HMONG
THE MUONG
THE COR
THE CHU RU
THE RAGLAI
THE CHO RO
THE XO DANG