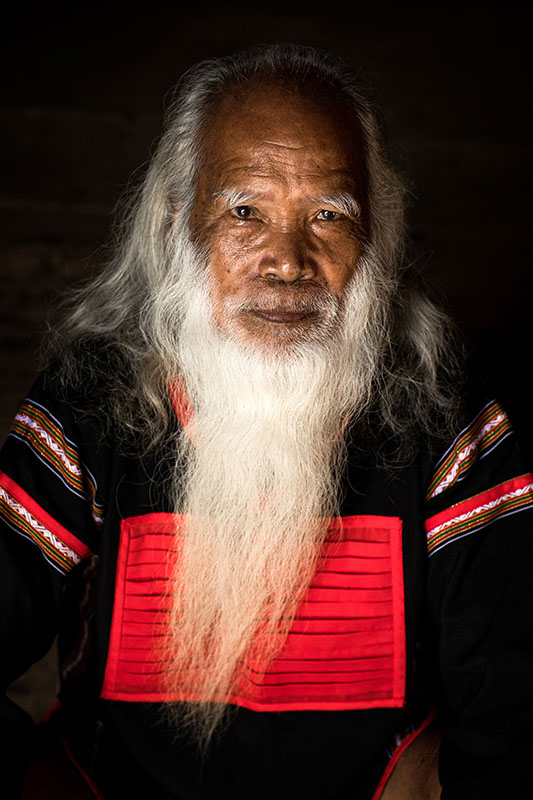 THE EDE
The Ede are organised in a matrilineal society, their houses have a distinctive look with some reaching up to 100 meters long! Little by little, they are being replaced with concrete structures, resulting in the disappearance of their whole ancestral social system. Their unique culture is increasingly under the pressure from new lifestyles and nearby cities, but thanks to their coffee, which has become very popular, their living conditions are improving.
I met the Ede on several occasions, but I could never find the original costume, until my trip to the Buon Ma Thuot area, in October 2017. In most ethnic groups, the male costume is very simple, and enhances the sophistication and finesse of the female dress in comparison. But in the Ede ethnic group, the male costume is very elegant and is filled with subtle details. The bright red piece was traditionally reserved for high social ranking, but they more commonly wear short sleeves. It is still produced today and is most commonly worn during festivals, but you can even find it in a few tourist shops!
Population
331 194 people (Census 2009)
Location
Dak Lak, Dak Nong, Phu Yen...
Arrival
Indigenous to the area
THE NUNG
THE LO LO
THE LA CHI
THE MANG
THE CO LAO
THE XO DANG
THE KHMERS KROM
THE RO MAM
THE CHU RU
THE BRAU